Post by Deleted on Nov 28, 2015 19:16:38 GMT -5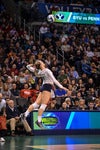 We are on our way to the College Cup!! Next up - Our old foe Rutgers on Friday Dec 4th(More than likely same day as 1st VB match in post season)
YT JUST MUTED THIS VIDEO WORLDWIDE DUE TO SOME MUSIC COPYRIGHT INFRINGEMENT! JUST HAD TO DO A VIDEO DISPUTE ON THIS VIDEO WITH THOSE STUPID MUSIC CORPORATIONS!!! THIS IS GETTING RIDICULOUS!!!! FOR NOW, THE AUDIO WHICH IS ONLY OF THE CROWD WILL BE WORKING SOON.
Thanks for getting this video and uploading it.
Haha! It was hilarious listening to the fans/parents screaming bloody murder at the ref.
Of course, he did make some bad decisions and followed them up with more bad decisions.
I mean he didn't need to give a red card to the one PSU coach, that was totally over-the-top.
At least we will have real commentators for the College Cup matches, which will air on ESPNU.
PSU was so much better than WV in this match. They are getting better every match.
Can't wait for the Rutgers rematch, which will be the 3rd time we'll be playing them this season.
Penn State has outscored their opponents 17-0 so far in the post season over 4 rounds.
The Nittany Lions have held their opponents to one goal or less in their last 21 matches, with only 2 opponents scoring 2 goals each.
Twelve different student-athletes have netted a goal for PSU this season.
The high-powered West Virginia offense entered the match leading the nation with 24.1 shots per game and posted a mark of 2.77 goals per game.
The stingy Nittany Lion defense held WVU to zero goals on 10 shot attempts in the 90 minutes of play.
The Nittany Lion defense recorded its sixth-straight shutout and 13th on the season.
Penn State's record is 18-0 when scoring first this season. They're are getting it done on both offense and defense.
Finally, PSU's starters are mostly underclassmen and the first 5-6 subs are underclassmen.
Looking forward to a bright future and continued success.